As we all have learned this year, things don't always go as planned. When Laine + Tyler reached out to me earlier this Summer, they had already faced the difficulty of postponing their wedding and now needed help replanning their special day while facing a pandemic. After deciding to cancel their original wedding plans, they decided to do two separate celebrations all in one day, and needed help with making sure all of the logistics were handled appropriately. As their planner, we immediately started with updating the vendor team with the new plans, revised our invitations and immediately sent them to print, and updated their wedding website to make sure guests had the most recent information. I must say, in the end, it was beautiful to see their family and friends gather (safely, of course!).
Baltusrol Golf Club is one of the most sought after golf courses in the country, and I've heard others even say the world. Inside, the newly renovated spaces still have their original charm and the reception space features a beautiful terrace that overlooks the golf course. It's really a spectacular view.
---
Covid-19 Safety Protocols
To ensure the safety of all of the couples family and friends, we created a welcome station at the entrance of the club and had custom masks and individual hand sanitizers for each guests to take with them and wear throughout the day. We arranged the seating so that friends and family were only sitting with guests who they were quartiniting with, and we eliminated bars and had only table side service, which made each guest feel like they had their own personal server for the night! Having two separate celebrations (the luncheon being for immediate family and the evening celebration for friends of the couple) allowed us to have smaller groups gather and more space throughout the guests.
Congratulations to Laine + Tyler on your beautiful wedding! It was an honor to be a part of it! If you want to begin planning your intimate wedding, please visit the contact page and let's get started!
---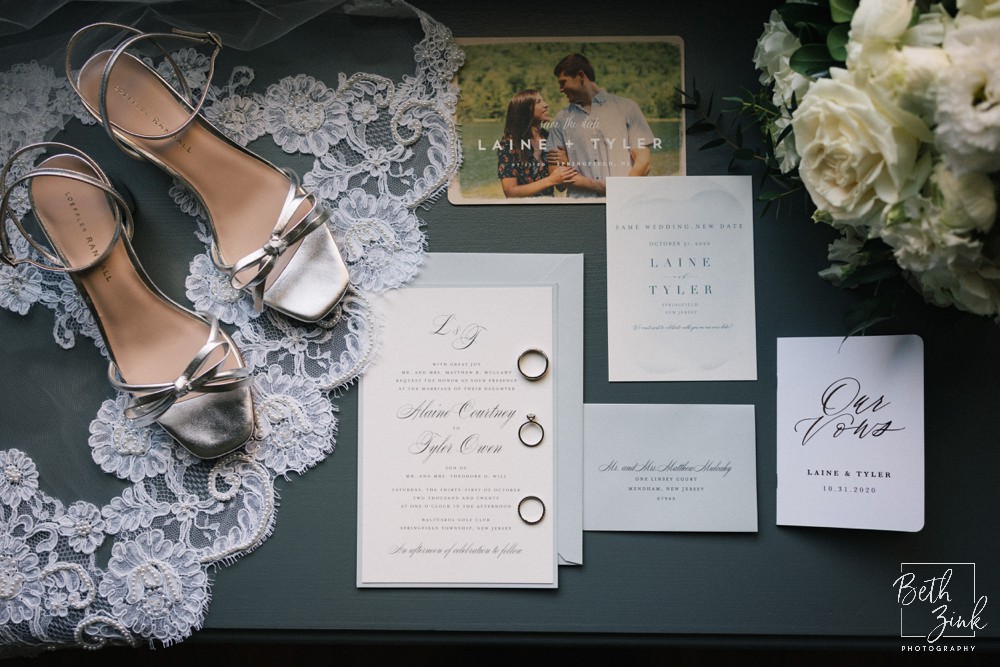 Planner: Particular Planner | Photographer: Beth Zink Photography | Venue: Baltusrol Golf Club | Florist: ​Viburnum Design | Videographer: Tone Media Studio | Entertainment: ETA Music | Stationery: Little Black Dress Paperie | Hair Stylist: JC Hair Design | Make-up Artist: Make-up by Johanna Marie | Cake: The Sweet Spot Bake Shoppe | Signage: The Jess Press