Particular Planner is here to help you sort through what will work best for YOU! Whether weddings or other big events, we offer services that are catered towards your needs, so if you don't see something that works for you, let's discuss what will! It's important to us that your life moments are carefully looked after, so if there isn't something that you see here, feel free to ask. All packages/services start with an initial planning meeting to discuss all your ideas, needs and wants.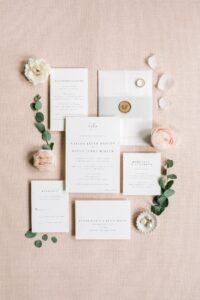 WEDDING PACKAGES
01. "I'm Lost. I Need All the Help!"
…and that's okay! This full service package is for the newly engaged couple that doesn't know where to begin. We'll discuss scouting venues + vendors you love. We'll create and customize a vision board that makes your dream a reality.  We'll handle the logistics by creating timelines and contact sheets, scouting vendors, reviewing contracts, scheduling meetings, and keeping you on track every step of the way. Most importantly, we're here when you need us. Including your wedding day, when we execute your wedding seamlessly. The average investment for a Full Service Wedding Planning package begins at 11k. 
02. "I Like Planning, But Need Some Help!"
Our Custom package is ideal for couples who perhaps have the time to plan and secure some of their main vendors, but need help figuring out the design and how to bring their vision to life in a cohesive plan.  Please inquire with us for pricing!                                                                                                                                               
03. "I've Got the Planning Covered But Need Help Day-of"
We call this Event Management Services, because it's so much more than just "day-of". We begin working together about six weeks out from your wedding day and from there, we'll encourage you to "pass the baton" to us! We handle all the communication with your vendors, create a day-of timeline that we distribute, we'll attend your final walk-through with your venue, and much more. This prepares us to seamlessly execute your wedding, leaving you stress free. Event Management Packages begin at $3450. 
04. Intimate Wedding Package

No matter the size, every celebration should be a special one. But, we understand that intimate weddings and celebrations have different needs. That's why we offer this exclusive intimate wedding package for those planning, dare we say, a micro wedding.  Ideal for couples planning a celebration of 75 guests or less! We help curate all vendors and plan a beautiful celebration from start to finish. Please inquire for prices.                                                                                                                                                                  

05. Add-Ons & Á La Carte Options
Who doesn't like a little icing on the cake? Here is your option to build your own package or add-on additional services – i.e. day-of wedding checklists, bridal shower coordination, ceremony rehearsal coordination, venue research, budget templates, or maybe someone to vent to? We're here to help with all that, too! For a full list of our add-ons or a la carte options, please reach out!       
Please inquire for additional details.
---
EVENT PACKAGES
Particular Planner is not just for weddings! You can count on us to help execute those life milestones, intimate corporate dinners, and other event logistics! Due to the unique nature of each event, most of these services come á la carte. Get in touch to tell me more about your upcoming event and build your perfect package!
Types of Events:
–Baby Shower
-Bridal Showers
-Engagement Parties
-Birthday Celebrations
-Corporate Dinners
-Corporate Meetings
-Conferences
-Fundraisers
…and more!
Please inquire for more detailed pricing. 
---