Ricki and Jacob's Alpine Country Club wedding in Demarest, New Jersey was modern and chic. From the moment I met Ricki and Jacob, they were incredible to work with! Ricki has fantastic style and a true eye for fashion and design. Plus – they both are so genuine and kind! Ricki and Jacob met several years ago at Northwestern University. They fell in love over good dinners and drinks while trying new restaurants together. When searching for a venue, they quickly fell in love with the Alpine Country Club and knew it was perfect from the very beginning.
I had the pleasure of helping them plan their rehearsal dinner at the Paramount Country Club as well as their wedding day! We designed the space with vibrant pink and orange florals for spring, which was completely different from their wedding design, but perfect for spring!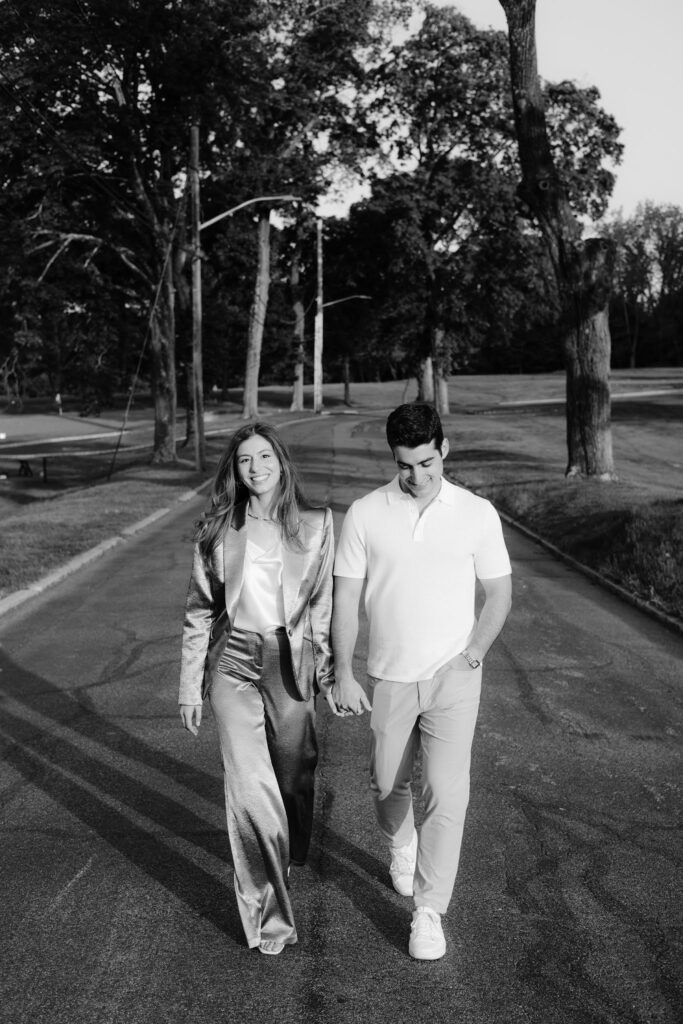 New Jersey Wedding Planner
We selected a fantastic vendor team for Ricki and Jacob's wedding! Ricki and I worked closely with Wile Events for months leading up to their wedding to bring their sophisticated and refined vision to life. Wile Events is incredibly talented with not only floral design but event branding – including the day of stationery and fun details like their branded cocktail napkins and Northwestern monogrammed olive picks! We designed everything around a gorgeous white, cream, black, and silver color palette. Every detail of the day turned out perfectly!
The weather can be very unpredictable this time of year in NJ, and unfortunately, it rained the entire day. The silver lining is though that Ricki and Jacob were incredibly lucky to have chosen a venue that had amazing indoor spaces for their ceremony and reception. We knew there was nothing we could do about the rain, so early in the morning we made the final decision to move everything inside and we never looked back. Even with the last-minute changes, everything ran seamlessly, and that largely had to do with being well prepared with a very thorough weather alternative plan and having a vendor team that were all team players.
Emotional Alpine Country Club Wedding
Ricki and Jacob decided not to have traditional bridal parties but instead had close friends getting ready alongside them that morning. It was an emotional day for everyone and you could feel the love and excitement they had for Ricki and Jacob. As Ricki was getting ready she did a first look with her mom and girlfriends, as well as her dad. Each moment was so special and memorable leading up to her first look with Jacob. We were able to find a beautiful covered space outside for them to see each other for the first time.
The ceremony was incredibly intimate and so emotional. There were tears flowing from more than just the parents of the couple! The aisle and Chuppah were adorned with beautiful white flowers and greenery and because of the rain, we opted to drape the entire back wall that morning. After the ceremony, cocktail hour took place under a clear top tent outside – which was an amazing space to have!
Before their guests entered the reception, we gave Ricki and Jacob a sneak peek of the space. I always love to see their faces when they see it all come together! All of the florals were perfect and the romantic candlelight added a special touch to the room. The night kicked off with a choreographed first dance by Ricki and Jabob and the rest of the night was spent on the dance floor. They celebrated well into the night with their family and friends with an after-party at the venue. I could not be happier for Ricki and Jabob! Congratulations!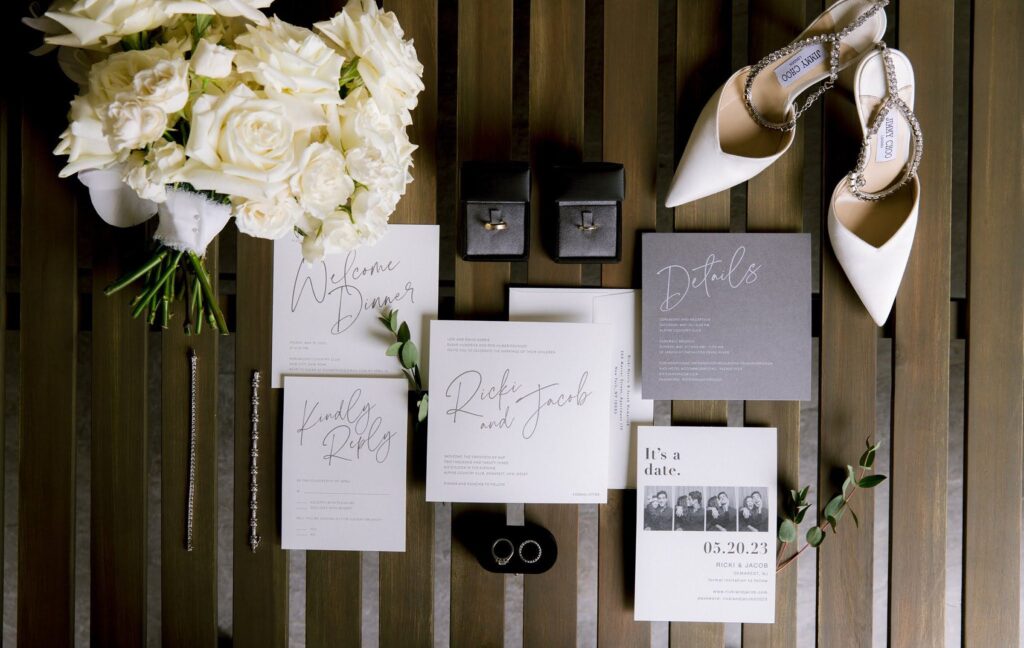 Vendors
Wedding Planner + Event Design: Particular Planner
Venue: Alpine Country Club
Welcome Reception: Paramount Country Club
Floral Design + Event Stationery: Wile Events
Photographer + Videography: Michael Justin Studios
Band, Photo Booth, and After Party DJ: Perrone Brothers
Ceremony Musicians: Sweet Harmony
Cantor: Cantor Laura Stein
Makeup: Stacie Ford Beauty Co.
Hair: Auburn + Ash
Cake: La Promenade
Linens: BBJ La Tavola
Transportation: Ramstar Transportation