Colleen and Ilya's hosted their family and friends at the picturesque Fiddler's Elbow Country Club in Bedminster, New Jersey. This wedding was the best way to kick off the summer on Memorial Day weekend! This was our first time planning a wedding at this venue, but it has quickly become a favorite of ours!
New Jersey Wedding Planner
Here at the Particular Planner, we ensure every detail of your wedding day is thought through. We helped this adorable couple plan the wedding of their dreams! They wanted a classic and elegant wedding vibe with white roses and light pink touches – perfect for a late May wedding. Together we carefully selected gorgeous floral designs and decor that accented the venue with the help of Peonies to Paint Chips.
Colleen and Ilya started the day getting ready separately in the gorgeous suites on the property. I always ensure the photographer has everything they need for detail photos upon arriving, as this really helps ensure that the entire morning is moving along according to our timeline. I love the stationery and accessories in light pink and these photos ended up being some of my favorites!
They decided on a first look before the ceremony and Ilya's face says it all when he sees Colleen. Her dress was absolutely stunning with so many details like the low back with buttons and long lace train. We then spent time around the scenic property taking bridal party photos. I loved that the bridesmaids wore all mismatched black dresses and the groomsmen wore tuxes to match the formal, classic style.
Estate Wedding at Fiddler's Elbow Country Club
The weather was so unpredictable on this day! It was warm, but raining on and off. We had to change our ceremony plans last minute to move to the venue's outdoor awning, but we were able to use the outdoor cocktail space following the ceremony. We then transitioned into the incredible reception space with floor-to-ceiling windows and stone-covered walls. It looked absolutely beautiful!
The entire day was seamless. The bride and groom as well as their guests LOVED dancing and they continued to party well into the night. Congratulations to Colleen and Ilya!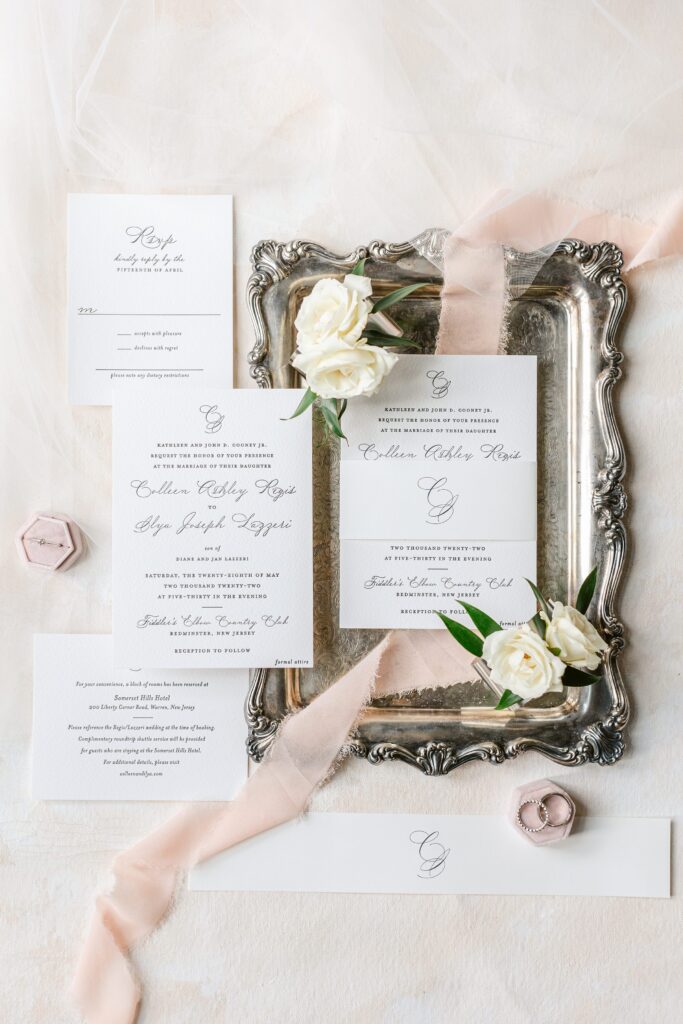 Vendors
Venue: Fiddler's Elbow Country Club
Wedding Planner: Particular Planner
Photographer: Lauren Kearns Photography
Florist: Peonies to Paint Chips
Makeup: Beauty on Location NJ
Hair: JC Hair Designs
Invitation: Minted
Videographer: Live Picture Studios
Entertainment: Elegant Music Group